High-volume crew transfer causes a challenge to many operators in the offshore industries. Getting workers to the platform in a safe and efficient manner may not always be easy. It is an activity heavily dependant on weather and sea states, and any delays can create logistical nightmares and increase costs significantly. Reflex Marine's access solutions help you reduce those risks and improve the reliability of your offshore crew transfer options.
FROG-XT10 – high-capacity crew transfer carrier which improves the reliability of your transfers
Reflex Marine's high-capacity personnel transfer carrier FROG-XT10 makes high-volume marine transfers by crane safer and more reliable than any other method. It offers improved passenger protection during both routine and emergency transfers thanks to its highly engineered and thoroughly tested features. Offering a cutting edge solution for high-volume transfers, the FROG-XT10 is a 10-passenger unit designed for ultimate safety.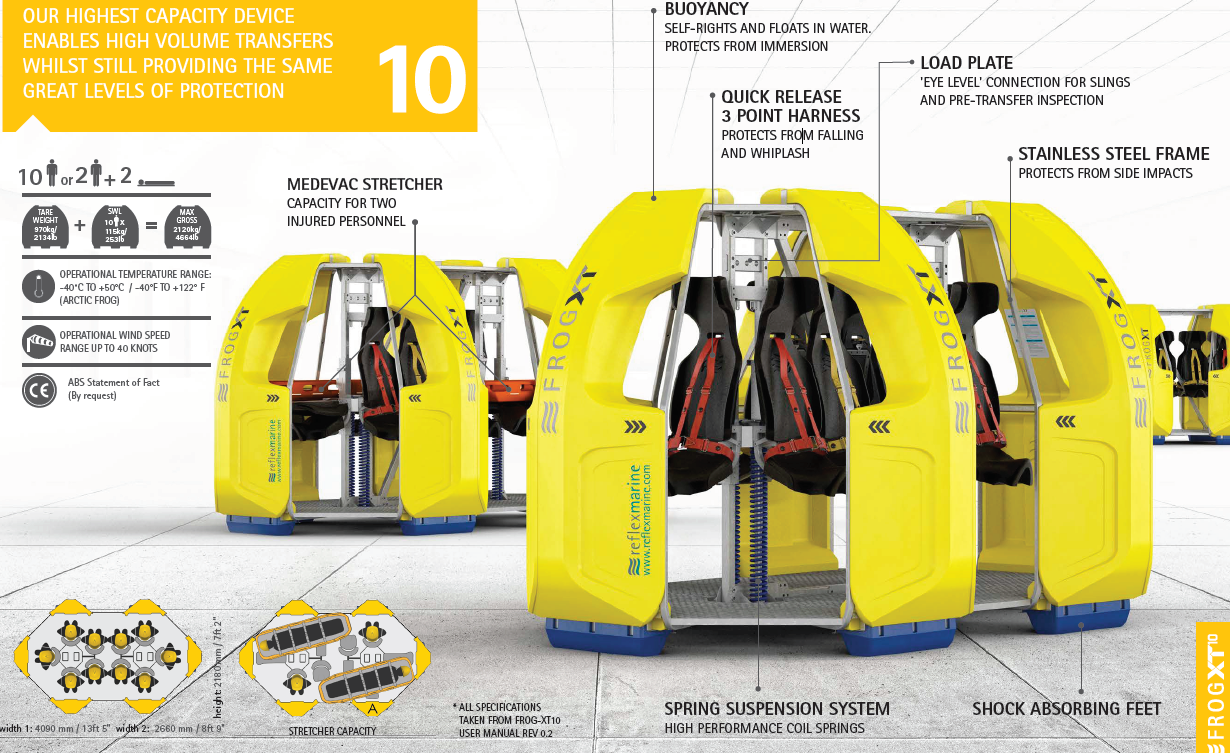 Operational performance
FROG-XT10 offers you increased operating envelope compared to other high-capacity options available on the market. It is operational up to 4.1m significant wave height (platform to vessel configuration) and up to 40 knots wind speeds. It offers all-round passenger protection with features protecting from both side impact (e.g. collision due to swing) and vertical impact (on heavy landing). The FROG-XT10 allows you to complete the transfer safely even in difficult weather conditions effectively increasing your operating window and reduced risks of delay or downtime.
Emergency use
Even in the best projects, there should always be provisions for emergency situations. The FROG-XT10 can be quickly converted to MedEvac mode – allowing for 2 stretchers and 2 assisting personnel to be transferred safely to a support vessel or another installation. This feature ticks the boxes for emergency preparedness while the unit can be used in routine transfers on a regular basis.
FPSOs, inter-field operations and other high-volume transfers
There are clear benefits of using the FROG-XT10 in various operational scenarios:
Increased operational window, reduced dependence on weather

Efficient and cost-effective transfer of high numbers of passengers

Reliable and safe transfer for routine and contingency use

Great for emergency planning: ttransports two stretchers and two passengers in MedEvac mode.



The FROG-XT10 has been used in many projects to date. The combination of high-capacity FROG-XT10 carrier and fast crew transfer vessels is a proven, effective and reliable solution in the oil & gas industry. Seacor Marine were one of the first companies trusting the original high-capacity FROG-9 units and choosing them for projects in the Middle East and Africa. Having successfully used the FROG-9 for several years, they then switched to the upgraded FROG-XT10 to benefit from new features and improved passenger protection offshore Angola. The precursor of the FROG-XT10, the FROG-9, was also heavily employed across Africa and Middle East especially, by industry leaders including BP and SOCAR.
The FROG-XT10 is also a commonly used option for the FPSOs. Some of the installations using the FROG-XT10 include Leviathan FPSO in Israel (Noble Energy), Armada Olombendo FPSO in Angola (ENI), MV25 TEN FPSO in Ghana (MODEC) and more.
FROG-XT10 on board Seacor Marine's vessel offshore Angola.
Designed with users and operators in mind
Unlike any other personnel transfer carriers on the market, Reflex Marine's devices have been designed with the users in mind. As such, the FROG-XT range of carriers has a modular design allowing for simple replacement of parts. The enhanced rigging protection and easier 'eye level' connection for slings, improve access for pre-transfer inspections. We appreciate that being able to maintain the unit in house can save you time and money. Reflex Marine's training course can prepare your team for all aspects of the crew transfer operations: from risk assessment, through passenger briefing to inspection and maintenance procedures.
Additional customer support services
To keep your device ready when you are, we hold a stock of replacement parts. This means you'll enjoy shorter lead times and less downtime, with the added benefit of lower packing and freight costs. For a greater peace of mind, speak to our team to arrange scheduled replacement parts deliveries in line with the recommended Inspection & Maintenance Schedule.
As with all Reflex Marine carriers, support is available 24/7 should you need assistance with your unit.
For more information on the FROG-XT10, download the User Manual or visit the product page. For prices, availability and lead times, please get in touch with us at info@reflexmarine.com