Outsourcing, although most popular in the IT and back-office services, is now getting more interest across other disciplines including in the E&P sector. Looking at the energy industry, outsourcing of EPC services is a standard but a new trend emerged a few years ago where equipment servicing is being outsourced in large-scale deals. An example of that is a recently announced deal: Offshore engineering and maintenance solutions provider Sparrows Group has said it has won a five-year contract with a major UK Continental Shelf operator to provide inspection services across all its assets in the region1.
There are a number of advantages to outsourcing. The main goal of outsourcing is typically to save money and time by reducing the resource consumption in-house. Looking at a more in-depth analysis of the process, we can appreciate that outsourcing facilitates control of operational costs and allows your team to focus on the core business functions – two items which are high on priority list for any type of operations. Further benefits include the ability to use the best knowledge and expertise for the particular task which you may not have capacity for in-house (and to gain that capacity you would first need to spend time and resource on training up your staff).
There are two types of equipment in any project: those that need to be constantly monitored and maintained (falling into core activities) and those which are serviced at regular intervals (during scheduled maintenance)The regular servicing of equipment is essential to maintaining operations and project uptime. Still, it is often delayed, skipped or pushed back due to other tasks taking priority. By outsourcing this type of activity, operators can ensure that equipment is serviced as and when recommended by the OEM which translates to improved uptime and lower maintenance costs in the long run. (read more on the benefits of preventive maintenance strategies in one of our previous blogs.
When it comes to safety-critical equipment such as your personnel transfer devices, regular equipment maintenance cannot be delayed or performed by an untrained person. Recognising this requirement, Reflex Marine set up a network of Approved Service Centres around the world to help clients access qualified technicians to service and maintain their personnel transfer carriers. Reflex Marine trained personnel can complete servicing tasks either onshore or offshore anywhere in the world. Using a certified technician to complete a unit service ensures highest level of expertise and data and reporting consistency (further allowing the operator to maintain correct and up to date Health, Safety and Environmental files and comply with regulatory requirements without fail).
In the case of Reflex Marine's personnel transfer carriers, following the recommended Inspection & Maintenance schedule and having regular unit service work completed by a certified technician can also translate to extended product lifespan, as its safety can be guaranteed by comprehensive maintenance, service records management and operational discipline.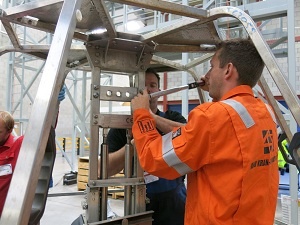 Taking it a step further to help operators manage operational costs and ensure safety of their crew transfer operations, Reflex Marine also offers the equipment rental option with (or without) full servicing and replacement parts included as part of the package. Shifting the cost from capex to opex and removing the concern for maintenance of the unit completely helps operators focus on their core activities. Learn more about Reflex Marine's rental options by getting in touch.
Finally, in an effort to increase risk awareness and provide an option for in-house servicing to those who prefer it, Reflex Marine has developed a range of training courses to support clients globally. Learn more about Reflex Marine's training courses here.
In times of crisis, operators and suppliers must ensure they keep focus on their core results-generating activities. Outsourcing is an effective way of reducing costs and eliminating distractions to the business while maintaining the highest standards of safety and compliance. Alongside digitalisation, we expect outsourcing will continue to play an important role in the energy sector to the benefit of all parties involved.
References:
1 https://www.oedigital.com/news/483116-uk-sparrows-in-5-year-offshore-inspection-services-deal