Reflex Marine has been nominated for a Safety Award by the Lifting Equipment Engineers Association for their new work basket design STORM-WORK.
An interview with Paul Onions, Engineering Manager at Reflex Marine, was published in the Nov-Dec issue of AustralASIA magazine.
Reflex Marine has been a member of LEEA (the Lifting Equipment Engineers Association) since 2014. What brought the decision to join LEEA in the first place?
Reflex Marine was founded in 1992 with a company mission focused on increasing safety for workers in the offshore industries. We have since created a benchmark for safety in terms of crew transfers offshore with our FROG personnel transfer carrier. This type of carrier is used in the method referred to as marine transfer by crane and as such inherently relates to lifting equipment.
After 20 years of gaining experience and supplying our products to various offshore industries, we had decided it was time we took our knowledge further and reach out to various independent specialist organisations. As the lifting of personnel is a safety-critical activity RML has always focussed on providing clients with a comprehensive support package to enable them to perform personnel transfer in the safest possible way. To reassure clients that we were promoting the safest and best possible practices we started looking around for partners or trade bodies that would lend credence to the work we were doing. The Lifting Equipment Engineers Association was established as the leading representative body for all those involved in the lifting industry worldwide. It has a focus on raising standards and promoting safety in the lifting industry which closely aligns with our goals. Our board together with the team of engineers jointly decided that LEEA is the key specialist organisation that will bring the most benefits to our growth and will help us better promote safety of offshore lifting processes.
You mention the benefits that being part of LEEA would bring Reflex Marine. After 5 years of being an active member of the organisation, what would you say are the main benefits of the membership with LEEA?
Reflex Marine has always been actively advocating for increased knowledge transfer in the offshore industry for the benefit of improving the safety of offshore operations. On our website we provide a wealth of open data and we are also involved in collaborations which provide free information and guidance such as the Marine Transfer Forum. We are happy to share our data and product drawings with clients and partners as we've always had an understanding of the importance of sharing knowledge and communicating ideas about industry best practices. We recognise LEEA as an excellent source of technical knowledge with vast expertise in the lifting area. As we strive to excel in this area of knowledge, too, Reflex Marine regularly looks to utilise LEEA's information to ensure we are following best practices in the industry. We make use of this knowledge in a range of ways from seeking guidance to help with customer questions through to exploring potential new product development ideas that LEEA might be able to offer helpful insights on. LEEA members also participate in numerous other technical communities which means we get regular updates about activities happening in related areas, as well as, being made aware of safety issues arising in them. The numerous standard working groups they sit on also allow us to stay abreast of potential changes to standards relevant to our work and gives us a channel to voice any concerns or opinions that we might have on the changes being proposed.
Reflex Marine has always considered itself as an international company, we support projects in over 70 countries over the world. However, we are still very much in touch and proud of our English heritage. Our clients in the UK and in the EU have long recognised LEEA as an authoritative association. Being involved with LEEA helps us build credibility and confidence in the eyes of our customers. These days, we are very pleased to see that LEEA has been expanding its reach and influence further beyond the EU, particularly to the Middle East, which for years has been one of the key focus areas for Reflex Marine.
Finally, in relation to our product development, we take note of any suppliers that hold LEEA accreditation. The LEEA stamp provides a reassurance that they also have a focus on safe lifting practices and that they have passed a LEEA technical audit themselves. As such, it gives us confidence in high quality and manufacturing standard of the products.
Reflex Marine's work-basket design called STORM-WORK has been nominated for the LEEA Award this year in the Safety category. What is it about your design that distinguishes it from the competition?
For any new product development we undertake, improving the safety of the offshore operations is our primary objective. We start by identifying the major risks in the current operations and then look to develop a design that mitigates them. In the case of the STORM-WORK, we worked with Subsea 7 to identify the risks that they had in their operations at height with the use of a standard steel work basket. We also reviewed historic incident data from the past 30 years to identify any recurring common causes leading to injury or even fatalities as a direct result of work-basket design, pre-use checks or operational guidance. Out of this process, the key risks in work basket design for the offshore industry were identified as:
Crushing & trapping
Snagging
Lateral impacts
Immersion

The driving force behind the design of the STORM-WORK was to address the traditional basket design shortcomings and protect passengers from these identified risks. We introduced standoffs to create a safe working zone to lower the risk of trapping or crushing injuries to the workers inside the basket. The basket's roof was designed to protect against the likelihood of being struck by a falling object while still allowing good visibility throughout the lifting process. The unit profile has been contoured to deflect around objects rather than snagging on items whilst being moved. The lifting configuration has four anchor points stabilising the carrier and reducing the risk of tipping. The reduced mass in comparison to traditional work baskets means less momentum is carried into lateral impacts. That feature, coupled with the buoyancy panels which provide impact absorption, reduces the impact effects on the passengers and it protects the surrounding assets, too. The buoyancy panels also ensure that in the event of immersion the basket will stay afloat in an upright position keeping the airways of the occupants above the waterline.
Further to that, STORM-WORK has undergone a rigorous testing and verification programme, just like all of Reflex Marine's products. Our development process also involved operator engagement – we worked closely with our industry partner Seaway 7 to gain current operational insights into the practical issues highlighted by the crews' working with work baskets. We incorporated the findings into the operational guidance for STORM WORK to ensure the ease of inspection and maintenance and the highest standards of worker safety during work basket operations. It is that focus on safety and minimising the risks of the offshore operations incorporated into our unique design that really make the STORM-WORK stand out compared to the other work baskets available on the market.
Is this the first time Reflex Marine has been nominated for a LEEA Award?
This is the first time we have been nominated for a LEEA award but it is not the first time we have been nominated for a safety award. We put the company forward for the recognition of our achievements on a global scale, across multiple marine sectors, as safety is the key focus of what we do and we think that any awards recognising safety are worthy of note. The positive recognition improves our standing and how we are perceived in the industry, elevating our business profile and reputation. The application process itself encourages us to consider the business from a different perspective, making sure we are aware of other companies and competitors and analysing what we are doing differently and how we can improve further. We have been recognised with safety awards for our range of personnel transfer carriers multiple times. To name just a few: in 2017 we received the Intercis Award or Best Offshore Solution for the complete portfolio of personnel transfer carriers. In the same year we have also been granted the Health and Safety Award for the FROG-XT range of carriers at the Global Petroleum Show in Houston. Finally, for the WAVE-4 carrier – our first design for the transfer of standing passengers – we received the Seatrade Award in the category Safety at Sea in recognition of "the success, ambition and innovation that inspires the future of the maritime industry". These and other awards we have received over the years are a result of a joint company effort and a reflection of the dedication of the whole team towards improving the safety of people working offshore. We've now applied Reflex Marine's 25 years' experience into developing this familiar but uncharted direction of work baskets. We hope that the STORM-WORK will receive a similar level of recognition beginning with the LEEA Award for Safety.
What do you think will be Reflex Marine's future relationship with LEEA?
Going forward I think there is still additional benefits Reflex Marine can look to explore when it comes to our relationship with LEEA. As I mentioned earlier, we are very much looking forward to expanding our work with LEEA globally. We've been following closely the new focus areas of LEEA's expansion. We're pleased to see that these areas complement our strategic focus, for example, in relation to the Middle East which is a very well-established market for Reflex Marine. We hope we can expand our position working alongside LEEA in this and other geographical regions outside the EU. I would also expect as LEEA grows globally promoting safety and raising standards of lifting operations, that companies such as Reflex Marine would benefit long-term from this increased emphasis and recognition of the importance of safety in the working environments.
Another obvious area to explore is the LEEA Accredited Training Scheme which could help us ensure a high level of competence in the training and servicing that is undertaken globally on our products. We strive to continuously improve our customer support both in-house and through the network of Approved Service Partners worldwide. A unified approach through training schemes like this could help us take this process a step further.
Paul Onions
Engineering Manager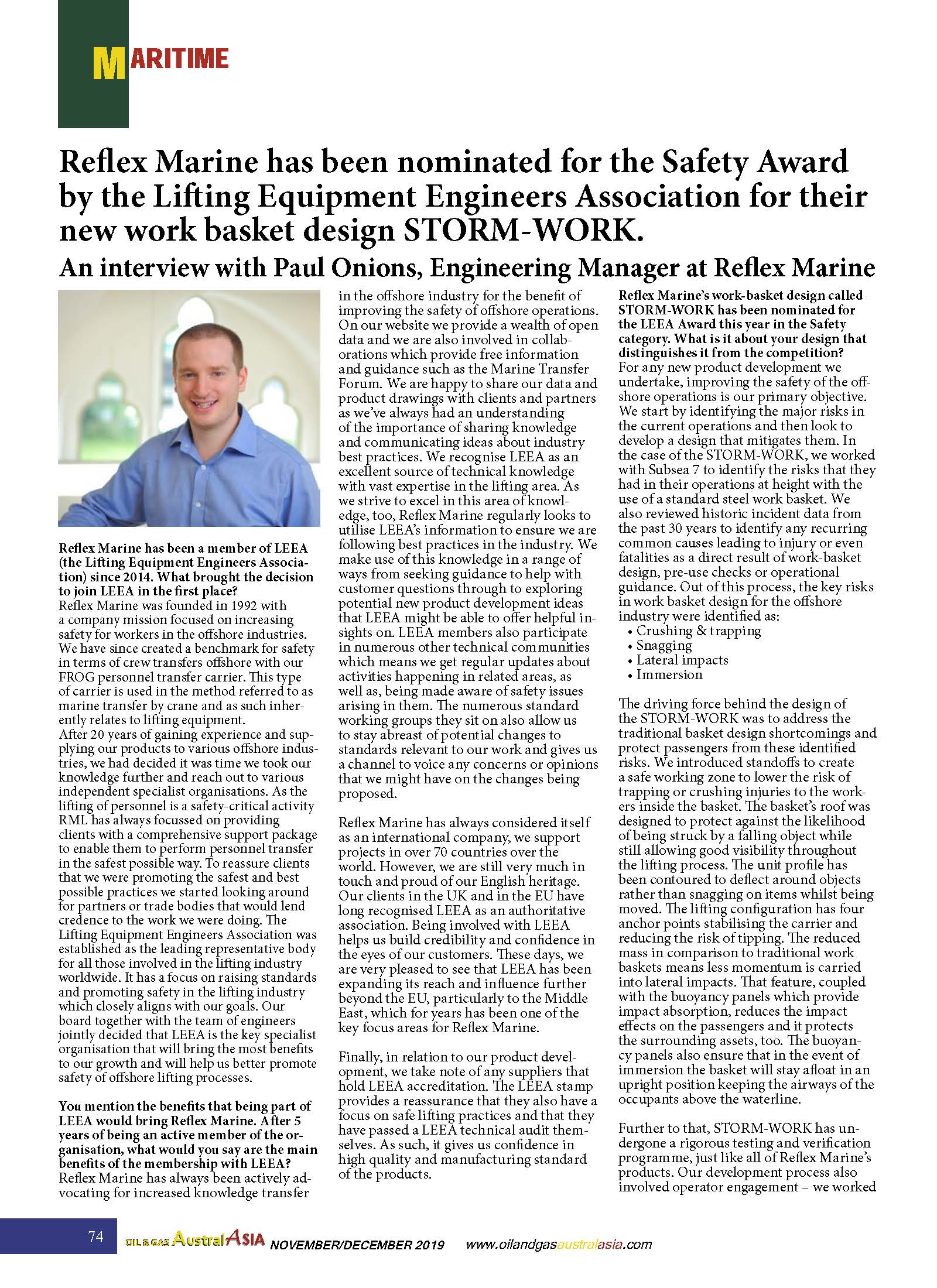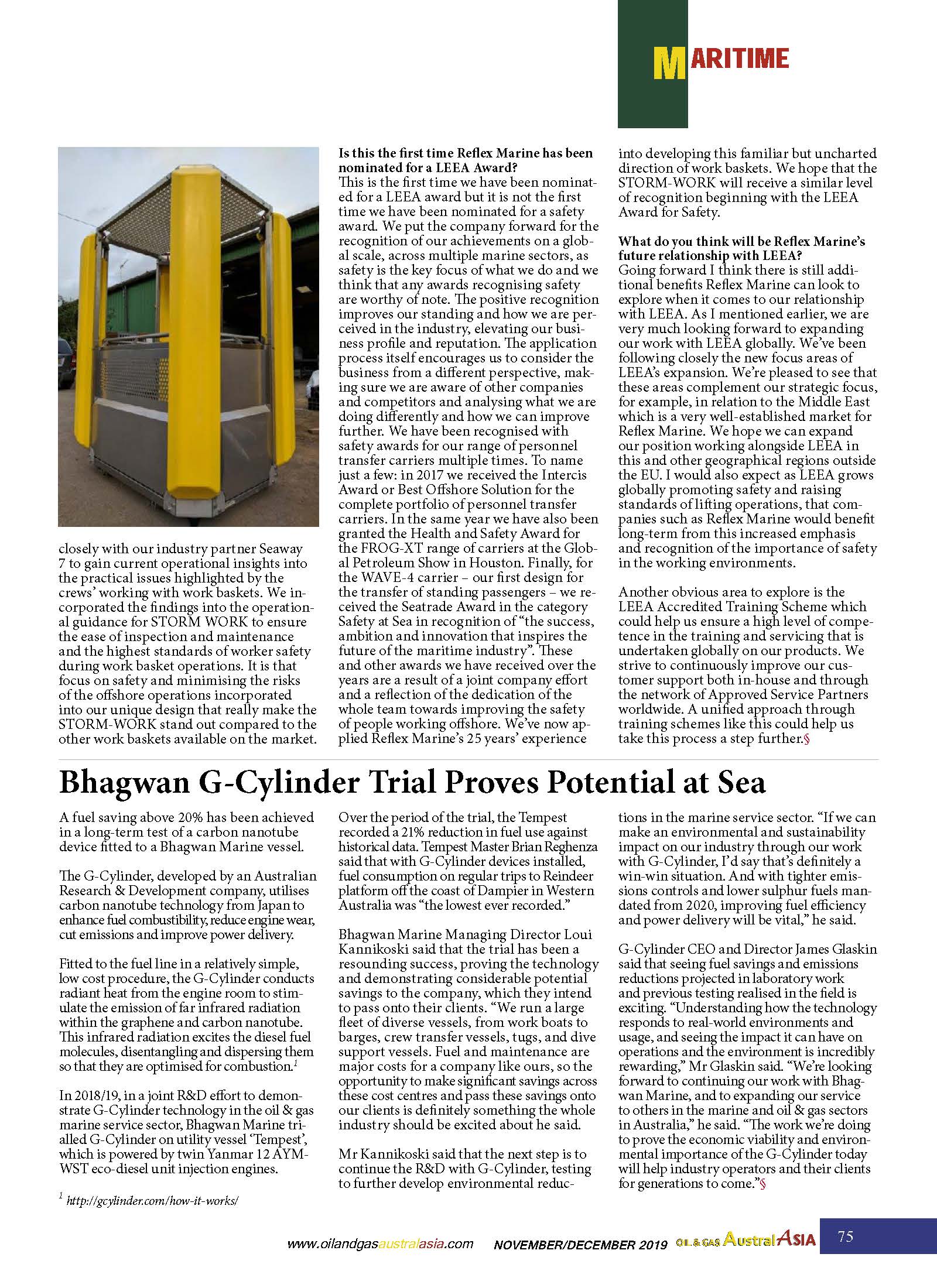 For more information on the progress of STORM-WORK, please contact us on +44 (0) 1872 321155 or email info@reflexmarine.com