An interview with Victoria Kalina, one of our Global Business Development Managers was published in Oil and Gas Australasia
Reflex Marine has grown substantially over the last few years. What would you say were the driving factors behind this development?
The company was established in 1992 with a clear mission: to improve the safety of offshore workers and to help ensure they always return home safely. This goal was a driving force behind the company's growth for years and led to the development of the safest crew transfer devices available on the market today. Our products are an industry benchmark that has influenced worldwide change in the standard of offshore personnel transfers. Over the last 25 years, Reflex Marine significantly contributed to increasing the safety of this type of operations, but we haven't stopped there - we have a vision of improving safety in the offshore industries further.
About 4 years ago the company entered a process of diversification while at the same time realising that the more we share our knowledge and experiences with the wider audience, the bigger the impact we can have on the industry. We can only achieve a shift in attitudes for good by engaging more companies and more people in the process. This diversification meant we broadened our target markets and reached out to audiences in market segments beyond oil and gas. After all, Reflex Marine can help customers wherever there is a demand for safe, robust solutions for transferring people and cargo.
Managing how businesses create, store and share their information is a key to their success. What would you say Reflex Marine do as part of their knowledge management activities?
As an innovative and ambitious company, we collaborate with a wide range companies in collecting data, actively analysing the needs of our customers and developing new products and solutions. We offer open-access to a lot of this data through our website. We also share our knowledge and experience through joint projects and at events. For example, together with We firmly believe that knowledge transfer and engaging in open discussions are the main factors that lead to disruptive ideas, innovative developments and business growth. They certainly stimulated our growth over the last 4 years where we continue to nearly double our revenue year on year and expand our reach globally, opening new countries and new markets.
How does a small company ensure consistent standards across its offering while continuing to focus on growth?
We understood the challenges that are inherent to fast-paced global expansion of our business. We knew that we needed to ensure that Reflex Marine kept offering the highest standard of services which go beyond just product delivery. After all, we provide 365 days/year support to all our customers as well as training, maintenance and servicing support anywhere in the world. We managed to maintain the highest level of this extensive range of support services thanks to our network of Approved Service Centres. We've developed quite a unique business model. Our innovation and design centre is in Spain where our Innovation Team develop new concepts. On the other hand, the teams in our headquarters in the United Kingdom focus on the engineering and customer-facing activities, as well as managing the partner network.
The well-established partner network is key to the effectiveness of our international expansion. We have agreements in place with global partners in related industries such as safety equipment or crane maintenance: Survitec Group, EnerMech and Viking Life-Saving Equipment. In some locations, we've identified a greater need for local expertise and we've also engaged with independent companies, e.g. in Brazil or Malaysia. We value both types of partnerships, as each offer different skillsets and abilities. Particularly in Asia, this business model has proven extremely effective and our close collaboration with local partners has helped us improve our understanding of the needs of our customers in the region.
Being based in the UK, how did you manage to expand your business in Asia to start with and how do you continue to work here?
Asia has been one of our key focus areas for many years now. We are very proud to have been working in this market since 2001 and we now have more than 250 units in service across Asia from New Zealand, through Australia to China and India. We owe this success in large part to our regional partners. As I mentioned, establishing a network of Approved Service Centres has proven particularly effective in Asia. There are several countries in the region which put great emphasis on local content or have preference on working with local companies. We understand that and have made every effort to accommodate these requirements by engaging in close collaborations with local representatives. This has allowed us to establish our brand in the region but also to continuously grow our business here. Over the last few years several companies have recognised the need for improved safety of offshore personnel transfers and we are pleased to be able to contribute to that change.
Would you be able to give an example of any activities specific to Asia?
Yes, one excellent example would be of a recently established new partnership with a company in Malaysia called Port Marine Safety Services. This has been a very successful relationship from early on. Port Marine reached out to us with their interest in our personnel transfer carriers. When we first establish communication with a potential new partner we go through a process of initial screening where we try to understand the core values of the company and their capabilities as a potential servicing centre. Port Marine's inspiration for working with us was in the fact that their staff, their friends and members of their families often worked offshore and as such were at risk during offshore transfers. Such motivation was very encouraging. In further discussions, we realised that both companies share the same values and mission to improve safety of personnel transfers offshore. Port Marine also maintain an excellent service yard and qualified staff. After the initial screening phase, we went on to provide Port Marine's team with the required training to be able to offer the highest level of support to our clients. Our Head Trainer went to Malaysia to deliver the training course and evaluate the service station in person. Port Marine achieved excellent results and we went on to sign an agreement. Since signing the agreement over six months ago we have been working very closely with Port Marine and have already achieved a lot in terms of knowledge transfer and growing our brand presence.
How has this partnership been working since?
Most recently, thanks to Port Marine's reputation and excellent work in the region, they've been invited to present at the . This was a great achievement and we were very pleased that Port Marine immediately decided to talk about Reflex Marine's personnel transfer carriers.
Shell have been our client since 2004 and currently own over 40 FROG units globally. We joined efforts with Port Marine to prepare for the event so that we answer the key questions and effectively address all of our customers' needs. At the same time, since Reflex Marine is in conversations with Shell on a global scale, we needed to ensure that the communication on the local level is clear and open. Reflex Marine prepared the structure of the presentation for Port Marine to deliver at the forum. We evaluated the requirements for personnel transfers in Malaysia in terms of the type of transfers performed and the environment (sea states and weather conditions which can impact on the project's uptime). After the event, together with Port Marine we analysed feedback received and we worked on providing answers to follow-up questions.
This type of engagement is an excellent example how a partnership can work to the benefit of both companies. We hope that we can build on this successful relationship to further increase our knowledge of the region and improve our offer to the customers here. We can confidently say that having Port Marine as part of our network helps us get there.
Is this a typical level of engagement you'd have with all your partner companies?
Not really. The relationship depends on both parties' engagement in the process. From our side, we remain open to in-depth communication and open-channel knowledge sharing. We are here to support our partner companies, so that they can in turn offer the best level of support to our customers, too. We also try to engage all our partners further through regular communication and training courses. We organise events and offer free data to encourage more engagement, too. Unfortunately, this isn't always utilised to the full by some of our partners, but we understand that each company may have different focus and priorities, and that our services are a small part of the offshore picture. Knowing that, we make sure to not stop at a closed-loop of partner companies for knowledge sharing. As I mentioned earlier, we encourage cross-industry collaborations and communication. We support various specialist events and conferences, where we often participate in panel discussions or deliver presentations. This type of activities is also an important part of our business, both in terms of strategy for growth and our mission to raise standards of safety in the offshore industry. We believe that these two go together. Further to that, the growth of our core business stimulates innovation projects and that in turn leads to expanding the boundaries of the industry with new standards for safety.
Are there any new projects in the pipeline for Reflex Marine?
Yes, we continue to innovate and look for gaps in the market which we can help fill. We've recently brought to market a new product: STORM-WORK, a unique work basket for suspended works at height. For Reflex Marine, this is an area of the industry previously unexplored yet very familiar. Similarly to the personnel transfer carriers, with our design we've raised the standards of safety of this type of operations. This has already been recognised by the market as we've been nominated for the Lifting Equipment Engineers Association Award in the Safety Category. We are waiting to hear on the results.
The STORM-WORK actually has an additional connection to Asia specifically. We've designed the work basket in collaboration with Seaway Heavy Lifting (a Subsea7 company). However, the development of the concept was also supported by ConocoPhillips. They have been our first client for the STORM-WORK and we've designed a customised version of the work basket specifically for their projects in Australia. With the significant growth potential of offshore markets predicted in Asia, we hope to maintain our strong presence in the region and to keep contributing to raising safety standards of offshore activities.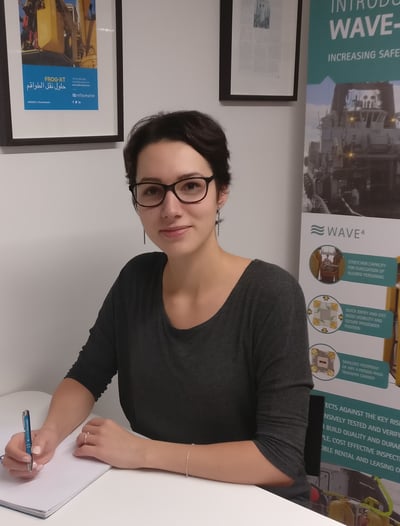 Victoria Kalina
Global Business Development Manager