The subject of decommissioning is persistent, constantly being revisited and talked about, yet somehow always escaping attention and getting postponed. As we near the end of 2020, yet again it comes on the radar.
In the UK North Sea, decommissioning expenditure was 30% lower than expected in 2020, according to OGUK (the UK Oil and Gas Industry Association Limited): "It is clear there is no rush to decommission and as with every part of the oil and gas business, reduced cash flow is impacting decommissioning plans".
Further discussions with operators in the UK show that spending on decommissioning previously assigned between 2020-2022 is likely to be deferred to later in the future. "Nevertheless, the industry has still been able to complete some projects, with a resilient supply chain eager to maintain an active workforce during these testing times and creating a flurry of activity, particularly around the removal of offshore assets in the latter part of summer 2020," OGUK said.
Decommissioning remains a difficult subject of discussion in the oil & gas industry around the world. While some argue that removal of offshore infrastructure which ceased production is more harmful for the environment than leaving the assets in the waters, others insist on complete decommissioning of these projects. Taking the UK Continental Shelf (UKCS) as an example, regulatory body the Oil & Gas Authority (OGA) estimates in its Decommissioning Strategy that there are over 250 fixed installations, over 250 subsea production systems, over 300 pipelines and approximately 5,000 wells which need to be decommissioned. In Australia as another example, according to NOPSEMA (Australia's offshore energy regulator): "more than half of the offshore oil and gas facilities in Australian waters currently regulated by NOPSEMA are older than 20 years, some exceed 50 years and more than 10 facilities have ceased production, highlighting appropriate management of ageing infrastructure and timely decommissioning as a priority for industry". These numbers can give you an idea of how much work there is in this market segment.
The impact of reduced oil prices and global pandemic hit the oil & gas industries worldwide. Still, many projects including in the decommissioning sector will continue to go ahead, whether driven by the prospect of return on investment or following governmental requirements or legislation.
The 2019 OGA Decommissioning Insight Report set a cost reduction target of at least 35%, which it hoped would be achieved through a range of initiatives including improvements in project execution and cost efficiencies. It also wanted an effective decommissioning strategy to concentrate on influencing and promoting new and improved methods and behaviours.
Some of the key issues to consider with any decommissioning project are safety, technology, the environment and costs. Focusing on the aspect of crew transfer, we can compare the various methods available and come to a conclusion that crane based transfers have a number of advantages over helicopters when it comes to transporting crew for decommissioning projects.
Risk assessments based on published data for offshore helicopter operations worldwide (oil and gas production (OGP) 2009) estimated the average individual risk in helicopter transfer was approximately a one in 400,000 chance of fatality. More recent data combined by the Civil Aviation Authority for helicopter transfer in oil & gas exploitation in the UK between 1992 and 2013 gave a value of 1.35 incidents for 100,000 flying hours (and a total of 7 fatal accidents which resulted in 51 deaths). Compare that to the current individual risk estimate for crane transfer operations of approximately one in 5 million.
It is also worth noting that as part of the decommissioning of an installation's topsides, account also to be taken of the fact that the heli-deck will be removed. Cranes therefore have a very important role to play in decommissioning operations, not only for the direct removal of sections of the installation, but also for crew transfers. Such transfers are an integral part of these complex operations and the choice of the right equipment will ensure efficiency and flexibility.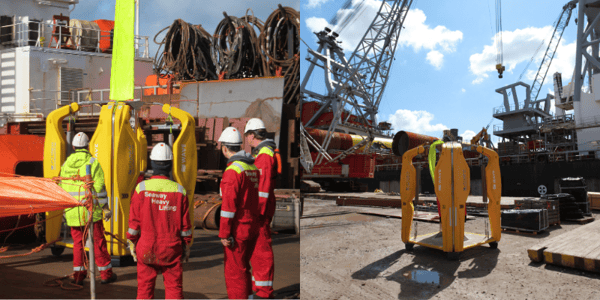 WAVE-4 as used by Seaway Heavy Lifting (now Subsea7).
The decommissioning of offshore installations clearly represents a huge opportunity for the oil and gas industry into the middle of this century and beyond, and delivering services in a safe and cost efficient manner has been identified as critical to project success. Transferring personnel offshore by crane-based carrier answers those dual requirements of safety and cost effectiveness and should be considered as part of your decommissioning plans.
Reflex Marine recognizes the need for safe and efficient operations in the decommissioning and the specifics of this industry segment. There is a number of solutions we provide that are ideally suited for this type of operations:
WAVE-4 and FROG-XT4 crew transfer carriers – offering complete passenger protection and small footprint
STORM-WORK work basket – for safe and reliable working at height
HAWK Deck Motion Monitor – for efficient movement of crew and cargo and extending operational window of your crane transfer operations
For more information about our products and services, please get in touch with our Team.
References:
- OGUK Decommissioning Insight Report 2020: https://oilandgasuk.co.uk/wp-content/uploads/2019/11/Decommissioning-Insight-2020-OGUK.pdf
- OGUK Decommissioning Insight Report 2019: https://oilandgasuk.co.uk/wp-content/uploads/2020/05/OGUK-Decommissioning-Insight-Report-2019.pdf
- The Regulator by NOPSEMA, 2020, Issue 3: https://www.nopsema.gov.au/assets/Publications/A75147.pdf
- Civil Aviation Authority – Safety review of offshore public transport helicopter operations in support of the exploitation of oil and gas 2014: https://publicapps.caa.co.uk/docs/33/CAP%201145%20Offshore%20helicopter%20review%20and%20annexes%2024214.pdf