The demand for energy across Asia has been on the rise in the recent years and is expected to grow more significantly in the next couple of decades, in line with the economical development of the countries in this part of the world: with growing populations, increasing standards of living and urbanisation. LNG is seen as the main transition fuel in this period and the demand for it is expected to grow hugely according to analysts. IHS Markit expects that by 2040 the South and Southeast Asia region will be importing a third of global LNG demand1. Myanmar is the latest country in the region to start importing LNG. They accepted the first LNG cargo from Malaysia in June this year at their LNG-to-power facility which was completed in just 9 months despite the pandemic2.
Arup comments on the LNG market in Asia: "This [growth] trend is set to keep on going, with energy growth predictions for Asia much higher than the rest of the world. Japan and Korea have long relied on LNG for energy security and power generation, but we're now seeing a change across Asia. China, India, Indonesia, the Philippines, Thailand, Vietnam and Bangladesh have followed suit with the recent introduction of gas into their import markets and are helping to drive demand across the region.3"
For Reflex Marine, Asia has been one of our key focus areas for many years. We are very pleased and proud to be working in this market since 2001, we now have more than 250 units in service across Asia from New Zealand, through Australia to China and India.
We are particularly pleased to see a range of Reflex Marine's carriers implemented in the new and ground-breaking LNG facilities across the region, supporting the region's transition to cleaner energy and secured sustained imports and production.
FROG-XT6 was the carrier of choice for the first Petronas' Floating LNG facility PFLNG Satu; Shell Prelude, the largest floating facility in the world, offshore Western Australia opted for a FROG-XT transfer system on board which meets the company and offshore industry and regulator safety requirements. The device on the facility is a 4-6 FROG crane transfer device and meets all the requirements for safe handling of personnel (including stretcher cases) either from Prelude to the ISV, or from an ISV to Prelude4. The first FSRU facility offshore Bangladesh, operated by Excelerate Energy, chose the WAVE-4 carrier for 4 standing passengers due to its small footprint.
We owe our success in Asia in large part to our regional partners. Reflex Marine make it an easy process for their units to be kept operational at all times, minimizing maintenance downtime of the projects. In the APAC region, Reflex Marine have a robust network of partners available for maintenance and servicing of units as well as rental carriers available for short-term projects. The authorized representatives also assist in procurement of carriers and spare parts.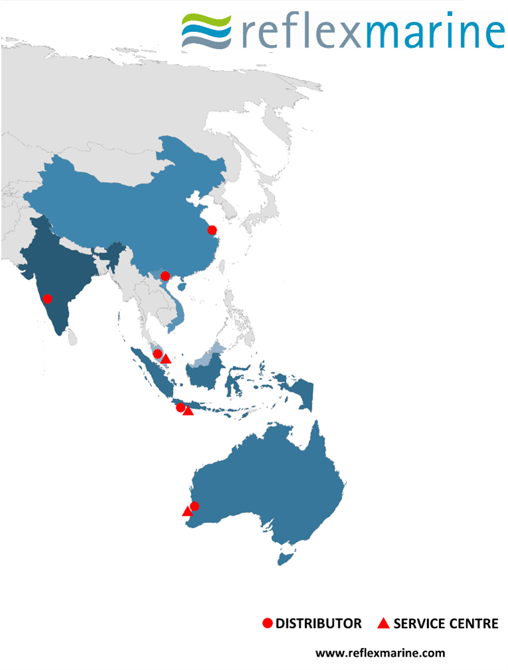 Map of Reflex Marine partners in the APAC region.
There are several countries in the region which put great emphasis on local content or have preference on working with local companies. We understand that and as such have made every effort to accommodate these requirements by engaging in close collaborations with local representatives. While our Approved Partners are independent companies, we work closely alongside them to ensure that Reflex Marine's standard of communication and service is always achieved. Last year our local partner in Malaysia, Port Marine Services was invited to present at the Shell Marine Logistic Technical Forum. This was a great achievement and we were very pleased that Port Marine immediately decided to talk about Reflex Marine's personnel transfer carriers.
Shell have been our client since 2004 and currently own over 40 FROG units globally. We joined efforts with Port Marine to prepare for the event so that we answer the key questions and effectively address all of our customers' needs. We evaluated the requirements for personnel transfers in Malaysia in terms of the type of transfers performed and the environment (sea states and weather conditions which can impact on the project's uptime). After the event, together with Port Marine we analysed feedback received and we worked on providing answers to follow-up questions.
All the supermajors operate in the region. For ConocoPhillips Asia Pacific and Middle East operations represent the company's second-largest segment by production. In Asia, they are involved in projects in China, Indonesia, Malaysia, Australia and Timor-Leste.5 ConocoPhillips was the first company to use our innovative work basket STORM-WORK and it was in Australia where it was employed for the first time. We designed a customised version of the work basket through a joint development project in collaboration with ConocoPhillips to suit their particular operational requirements. Having received excellent feedback, we are happy to support the safety of industrial working at height offshore Australia and across the region.
Over the years we've seen Asia often take a lead in embracing innovative solutions. With the significant growth potential of offshore markets predicted in Asia, we hope to maintain our strong presence in the region and to keep contributing to raising safety standards of offshore activities.
References:
1 https://www.petroleum-economist.com/articles/midstream-downstream/lng/2020/south-and-southeast-asia-to-drive-lng-demand-growth
2 https://www.spglobal.com/platts/en/market-insights/latest-news/electric-power/080420-myanmars-fast-track-lng-to-power-plants-put-country-on-global-lng-map
3 https://www.arup.com/perspectives/the-future-of-lng-in-asia
4 https://www.parliament.wa.gov.au/parliament/Commit.nsf/(Report+Lookup+by+Com+ID)/9CC3D91BD3163FF948257E3E000C8CE2/$file/7+May+2015+EISC+FLNG+Safety+Report.pdf
5 https://www.conocophillips.com/operations/asia-pacific-middle-east/