Reflex Marine Design and Project Engineer, Daniel Martinez, offers his perspective on the challenges posed by innovation within a global company.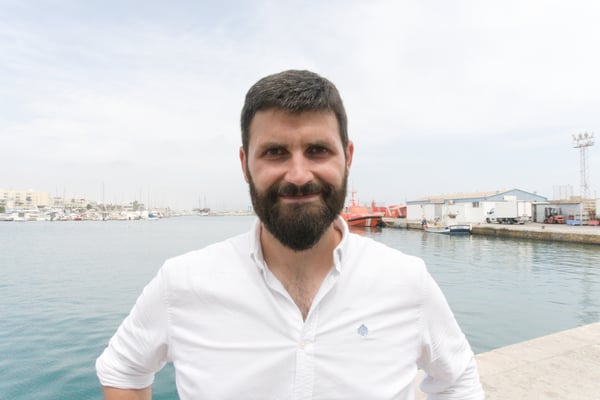 For Reflex Marine it's been another year of brave new projects and changing perspectives in the offshore industries. From your perspective as Project Engineer, why is innovation an important part of the business?
At Reflex Marine we see innovation as an attitude, more than just an activity we happen to conduct. I think this is important, because it puts our mindset in a position of permanent curiosity about industry challenges. This attitude not only allows us to come up with ideas that can, eventually, be turned into new products or existing product upgrades; it also means as a company we continue to contribute to increasing safety standards in the industry while delivering exciting projects. Personally, as an engineer, I've always found it to be both rewarding and enjoyable.
As an innovation company, it is certainly key to our brand and position in the market. However, by looking for needs and problems to solve, not only do we find opportunities for developing new products, it also allows us to maintain a close relationship with clients and partners by seeking their feedback and being able to deliver more value to them by applying our experience and skills to improve their operations.
In addition to developing new products, we continuously look at ways of improving existing products and procedures to ensure we stay up-to-date with industry and technology developments. For instance, we have recently revisited our current product range to address specific conditions which are challenging for crane transfer. Based on our evaluation, we developed the new FROG-XT6-P, which is now ready to be launched onto the market.
Could you give an example of how an inspiration for a new product comes about?
We are proud of being able to establish strong collaborative relationships with other businesses, not only in our supply chain but also with prospective and existing clients that may have particular needs not directly addressed by our product portfolio.
A good example of this is STORM-WORK, developed in partnership with Seaway Heavy Lifting: Seaway had very particular safety requirements for their operations involving work baskets that were not met by the products available in the market at the time. At Reflex Marine, we took this opportunity to use our expertise in crane access operations and design to develop a new product that could cover our partner's needs, but also be used to increase safety standards in similar operations across the globe.
This experience led us to identify other challenges, this time around the cargo transfer operations. We soon started to work on a new product concept to make offshore cargo transfer safer and more efficient, which is now in its final phase of development and being tested by our partners.
Where once the offshore industry was almost entirely oil and gas, has the growth of offshore renewables changed the requirements coming from your clients?
Absolutely! While the oil and gas industry has been the main driver of offshore activities for several decades, their solutions aren't appropriate for some of the problems faced in other sectors. In fact, the cargo container concept is a clear example of how offshore wind industry had needs that had not been met by existing offshore oil & gas solutions, mainly due to the scale of both vessels and cargo, as well as the nature of the operations.
We have been very keen to develop our business into the offshore wind industry, as we feel we have valuable experience and knowledge of offshore access and transfer that can benefit the renewables sector by making their operations safer and more efficient.
Specifically, crane transfer of personnel for offshore wind turbines is something we have been advocating for over the past years, as crew transfers from vessels to the transition pieces currently rely very heavily on human factors, which make the operation less predictable and, therefore, less safe.
Luckily, there are now operators that are looking at crane transfer as a serious access solution for new wind farms. In fact, we are currently working on a small crew transfer carrier for a European operator who is interested in trialling this method on wind turbines that will be commissioned this year. This will also serve as a demonstration to other operators and we hope we will be able to change the perception and mentality around crane access in the wind sector in a similar way as we did in the oil & gas industry in the North Sea almost 20 years ago.
Why do you think that continuously improving existing products is important?
We always strive for the highest standards of safety in our products, but we are aware that there is room for improvement in many areas, such as simplifying the maintenance of the products, incorporating new materials, or simply adapting them to newer industry requirements. It's key to remember that products which look good on the drawing board don't always fit with how they're going to be used in the real world! The design must incorporate ergonomics for comfort of the users as well as procedures that ensure efficiency of use and ease of ownership.
In this regard, we are very conscious we must not become complacent and we are always looking for better and more sustainable materials, improved ergonomics and designs, and ways to build products in a more cost-effective way. In the same way, we have to understand what's driving our clients, and the growing awareness of the full lifecycle environmental impact of a product is an important factor which we have to take into account.
Our knowledge and interest in new technologies are key to finding ways in which we can add value to the end-user and deliver the best product we can, whether through improving the ownership experience, reducing the costs, or adding safety features.
You're now introducing a redesigned product called FROG-XT6-P. What brought about the change to the original concept?
As part of our innovation focus, we identified operations conducted in particular regions of the world that could benefit from increased performance while still providing high-volume transfer capacity.
While the original FROG-XT6 capsule has performed extraordinarily well, and continues to do so, we acknowledged that the safety and performance envelopes could be improved to add value to clients who use the FROG as their main offshore access solution in very challenging weather conditions.
The new concept achieves this while maintaining the familiarity with the current product range, hence facilitating its use and inspection. One of the goals of our design process was to maintain a high level of common parts across the FROG-XT range, so that existing clients moving to the new design could transition without having to resupply replacement parts stocks, or retrain crews used to their existing carriers. We feel that we managed to achieve all of the design goals while maintaining a price level in line with our existing products, keeping in mind that cost-efficiency plays an important part in today's volatile offshore energy markets.
Daniel Martinez
Design and Project Engineer