Reflex Marine are proud to announce that we have submitted an application for the Safety Award at the LEEA Awards 2019, with the winner to be announced at LiftEx 2019 in November. The submission has been made for our latest innovative design of a work basket aimed to improve safety and efficiency for workers, STORM-WORK.
The text of the nomination for the award is presented below.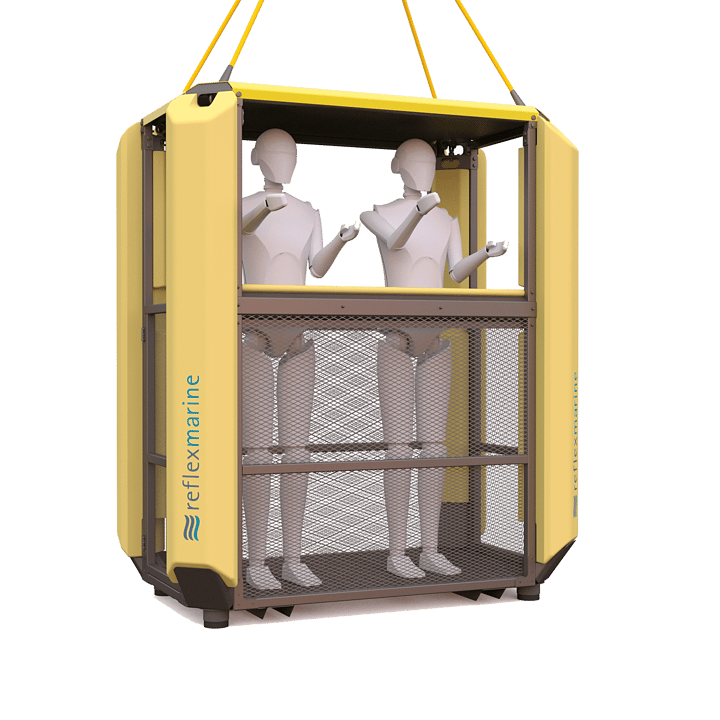 Introduction
Reflex Marine is widely recognised as the global leader in offshore access solutions. Reflex Marine provides safe methods of crane-based personnel movement, managing risks and improving safety standards in the global offshore industry. Helping offshore workers return home safely from their place of work is at the core of Reflex Marine's mission. The company is best known for the FROG transfer carrier which is now an industry benchmark. Reflex Marine has a proven track record globally: 10 years without a single lost-time incident.
Reflex Marine has applied its 25 years' experience into a familiar but uncharted direction, the work basket. The latest innovation is STORM-WORK. STORM-WORK which was launched in 2019 is a ground-breaking step in safety and addresses design shortcomings in traditional work baskets. STORM-WORK is designed for the protection of personnel in increasingly challenging environments.
Background
Traditional work baskets are used throughout many industries, both on- and offshore. Their uses vary from general maintenance, offshore repairs and inspections.
Technology has not kept its pace with industry changes and rising expectations for safety levels.
Reflex Marine has been analysing and reviewing incident data on work baskets over the past 20 years. This compiled with feedback from the industry has led Reflex Marine to identify key design flaws with traditional work baskets.
Reflex Marine has collated common causes that have led to injury or fatalities as a direct result of work basket design, pre-use checks or operational guidance and used this knowledge to develop a ground-breaking design.
Incident data
There is not one body that records incident data, and as such, Reflex Marine has compiled all published incidents involving work baskets globally themselves.
Reflex Marine has highlighted the main causes that have led to injury or fatalities. These involve the following:
Immersion – When working near to shore or offshore, crane failure, wire rope failure or crane operator error can lead to an immersion event.
Crushing and trapping injuries – When working on the side of an installation there is a high risk of crushing or trapping of the persons inside the work basket.
Snagging – Work basket designs do not traditionally have anti-snagging properties, which can lead to a risk of incidents including falling, crushing and damage to the basket or installation.
Lateral impacts – High-velocity lateral impacts can occur during lifting operations.
Safety by design
Protection from these identified risks was incorporated within the design of STORM-WORK, as well as the operational parameters and guidance provided. These design considerations have been applied to create the safest work basket available to date.
In the event of immersion, the STORM-WORK will float and self-right whilst creating a safe space for personnel to await rescue. STORM-WORK's flotation panels double as impact protection which provides protection to the passengers up to 2ms-1. These flotation panels are designed to absorb impact which protects the asset as well as the basket.
The outer panels and flotation minimise anti-snagging risks, this is through contoured buoyancy panels, top and bottom, stepped side panels, folded top edges and protected shackle and lifting points.
The lifting configuration is made of four anchor points which stabilise the carrier and reduce the risk of falling.
The integrity of equipment is also vital when looking at the design of STORM-WORK: easy to access and visible critical components allow for ease of inspection and maintenance. This design combined with the weld-free structure limits the components in the critical path.
Personnel protection from when they are carrying out their duties within the carrier has also been taken into consideration. The offset space between the panels and the personnel is known as the "safe working zone" – it is to mitigate for crushing and trapping injuries. Overhead protection has also been incorporated and thoroughly tested to ensure competency.
Testing and verification
STORM-WORK has been designed with the client in mind. Through the design process, Reflex Marine created a highly-engineered product which ensures passenger safety. A further benefit is the build quality – all carriers are designed to last for years of usage with all parts easily replaceable.
STORM-WORK is the only work basket to go through the most rigorous testing and verification programme. Anti-snagging, crane speeds, lateral impact and the impact on the human body were among the criteria assessed. Immersion testing was carried out to ensure the carrier would float and self-right in all load conditions.
Reflex Marine adopted methodologies similar to those used to evaluate the safety performance of motor vehicles and assessed the risk of injury. The rigorous testing and verification programme confirmed that the objectives had been met.
As well as the in-house testing, Reflex Marine conducted offshore trials with their partner Seaway 7 (previously Seaway Heavy Lifting). The feedback from this allowed Reflex Marine to form improved operational procedures and safety guidelines.
Summary
Reflex Marine has been at the forefront of developments in marine transfer for the past two decades. STORM-WORK is the next generation of work basket that is dramatically improving safety across the lifting industry. STORM-WORK offers a high level of safety and is a cost-effective solution.
For more information on the progress of STORM-WORK, please contact us on +44 (0) 1872 321155 or email info@reflexmarine.com