SOUTH AMERICA ENERGY SERIES: Leading Gas Utilisation & Renewable Uptake in South America
BOGOTA, COLOMBIA 20-21ST JUNE 2019
Being invited to speak at the South America Energy Series in Bogota in June this year was an extraordinary experience. Together with representatives from Höegh LNG and Golar LNG, two of the most important players in global LNG operations, I joined a panel discussion that addressed reviewing LNG infrastructure and facilities in South America. It was a great privilege to represent Reflex Marine at such an important event. Having this opportunity meant I could reach a much wider audience, passing on our knowledge about offshore crew transfers in various environments, far more effectively than any individual networking could achieve. It also meant that I had the opportunity to show that Reflex Marine is so much more than a simple niche supplier. Understanding the market and where we fit into that market, how can we use our knowledge and experience to help add value to our client's work and operations and how we can transfer our knowledge and expertise on safe crew transfer offshore have always been written into our core missions.
In November 2018 I attended the South America Energy Series LNG conference held in Panama City, which explored the opportunities for natural gas in the Americas. I have presented on numerous occasions with Reflex Marine and I immensely enjoy this part of my work. Those of you who have ever done any public speaking will know that some healthy nerves are inevitable before going on stage, and in most cases, they make us sharper during the speaking slot or participating in a panel discussion.
Reflex Marine are a global supplier of an indispensable safety product with a mission to ensure offshore workers can travel to work and back home safely every time. My aims were: to emphasize the importance of providing the safest possible way to transfer people offshore; to influence and educate all participants in any offshore industry; to work with both public and private sector entities to improve safety standards and engage everyone in continuous knowledge transfer and collaboration focused on providing a safer work environment for offshore workers globally.
When I joined Reflex Marine 6 years ago the focus market was traditional oil and gas offshore. Since then the company spread its reach to almost every offshore market segment, from LNG to defence. We developed our own signature flexible and innovative approach that was a combination of comprehensive market research, thorough analysis, working with clients rather than just selling to them, and finally creating a pricing and discount strategy that would ensure the best achievable cost effectiveness of the crew transfer operations. With ten years without a lost time incident our personnel transfer carriers are well recognized in all types of offshore operations as the safest transfer option. We continue to work very hard on improving our response times and operational post sale support.
Having a very good understanding of the market and sharing knowledge both with in-house teams and external parties was crucial in the market diversification process. Looking at the LNG market segment we researched global current and planned projects, we analysed the activities of the key market players, we looked at our client database and identified the ways we can help them improve their crew transfer operations, making them safer and more efficient.
While in Colombia, holding productive discussions with our clients was a major focus. Building relationships with clients in different parts of the world helps us better understand their needs and respond to their requirements. While we have a very strong presence in other Latin American countries, particularly Brazil and Trinidad and Tobago, we recognized the need to better support offshore operations in Colombia and we became involved in sharing best practices from offshore crew transfer worldwide. As a result of these efforts, one of our long-term clients, Chevron (operator of 26 active offshore oil and gas and LNG projects globally) are now interested in using our standing four passenger carrier, WAVE-4, for their offshore operations in Colombia. WAVE-4, was selected as the best suited for their operations due to its small footprint and the low volumes of crew being transferred at a time.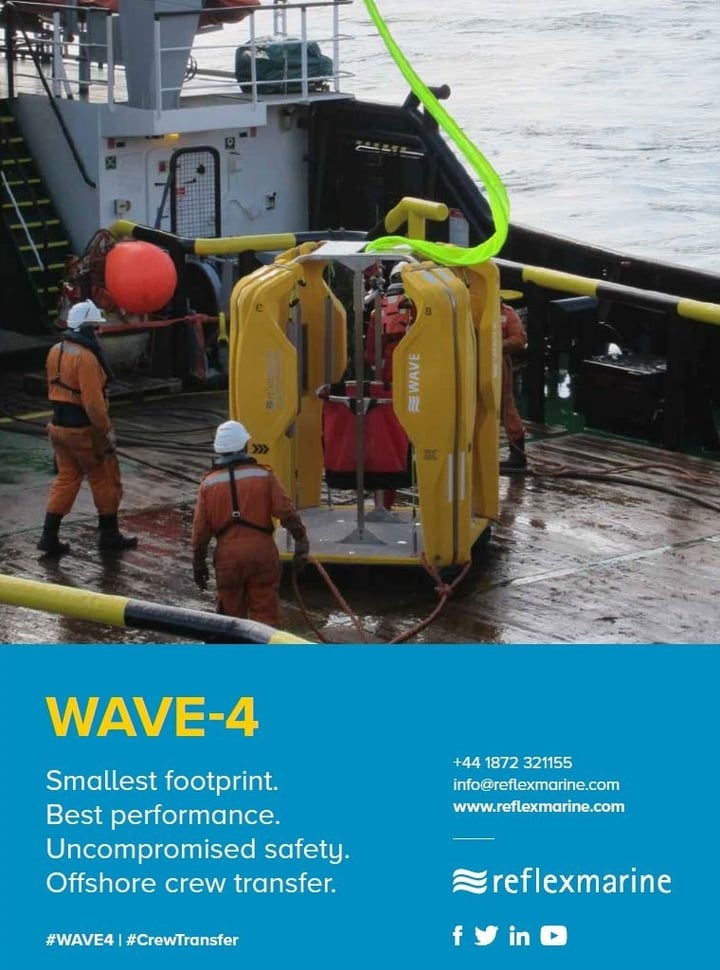 We decided to foster the good relationship we have with the Department of International Trade (DIT), a United Kingdom government department, one of whose responsibilities include helping UK businesses export and grow into overseas markets, and met with them in Bogota. We work with DIT globally and their support has aided our success exporting enormously. Their assistance in keeping us to date with industry knowledge, inviting us to workshops to increase our profile with existing / new clients and acting as a mediatory between ourselves and government agencies, such as the "Directoria de Portos e Costas" (DPC) in Brazil is invaluable.
With a well organised agenda with plenty of time to network at 1-2-1 prearranged meetings, during coffee breaks, meals and an evening cocktail function, I met a plethora of people involved in the LNG business, both in Colombia and further afield. We discussed their current and future LNG projects and I learned so much more than any email or telephone call could achieve. Having face-to-face time is important for many business dealings, however in Latin America it is absolutely fundamental. Speaking with global LNG operators I gained a lot of knowledge, including how they currently transferred people and how some had no contingency plan in place in case of an accident. Engaging with the other attendees has been invaluable to share my knowledge and experience as a global professional and I welcome the opportunity to attend similar events in the future.