According to the U.S. Energy Information Administration, Mexico is the world's 11th largest oil producer and has prospective resources of 112.8 billion barrels of crude oil according to the country's National Hydrocarbon Commission (CNH).
Most of the country's oil resources are found offshore in both shallow and deepwater fields in the Gulf of Mexico and centered around the region of Campeche.
The oil and gas market in Mexico is going through a turbulent decade. Following the Energy Reform of 2013, the government approved international companies developing upstream projects in Mexico for the first time since the country nationalized its oil industry in 1938. Since then, Mexico has held 3 licensing bid rounds. In 2016's licensing Round One, the Mexican government offered 10 exploratory blocks in total, estimating that they contained as much as 11 billion barrels of oil and natural gas — equivalent to estimates of oil and gas reserves in the South China Sea. Eight of those blocks were awarded to international companies including Total, ExxonMobil, Equinor and Chevron (all of which are Reflex Marine's clients globally). The most recent licensing round in 2018 was the first offering deepwater fields. It brought further new entrants to the market and more independent companies, increasing the mix of foreign investment in oil and gas offshore Mexico (Shell, Repsol, Lukoil, Eni, among others).
2019, following the entrance of the new government elected in 2018, saw further restructuring of the country's energy policy and a renewed focus of the government in pushing towards strengthening the position of PEMEX by expanding its oil and gas portfolio. This tied to heavy financial commitments to back the development of 23 new fields by 2024 and have stimulated optimism in the industry in spite of the low oil prices and production cuts in recent years.
ENI was the first international oil company to begin production offshore in Mexico in 2019 and more companies are expected to follow suit, with several offshore fields expected to come online in the next couple of years.
The entrance of new industry players to a previously closed market will certainly add value to Mexico's oil industry and will have a direct long-term impact on the standards and procedures in the offshore industry. We hope that we will be able to contribute to this process, too, by helping to improve the safety standards for offshore workers.
Our work in Mexico began 10 years ago when the FROG-6 personnel transfer basket successfully completed the testing and approval process by the Mexican Merchant Marines (now SEMAR) and was approved for use in the country.
Sharing knowledge and engaging with people in Mexico
Reflex Marine's FROG-6 was the first contained, rigid and safe personnel transfer basket on the Mexican market. The FROG-6 offers complete passenger protection, was thoroughly tested and was also approved for use by the national oil company, PEMEX. It was the first alternative to collapsible baskets, commonly known in Mexico as la viuda (the widow) because of the high number of workers who die using them during offshore transfers leaving their spouses behind. Sadly, despite alternatives available, the collapsible baskets are still the most commonly used crew transfer method in offshore projects in the country.
As a company with 30 years of experience in the world of marine crew transfers, we understand that long-lasting change in industry practices takes time and effort. Over the years, we have continuously engaged with operators and government officials in Mexico and we will continue to do so. We attended and presented at multiple events, starting with PECOM in 2014 when the FROG-6 carrier was presented on the stand: we were honoured to be able to present the FROG to the Tabasco state governor, Arturo Nunez Jimenez and to Engineer Gustavo Hernandez, the General Director of PEMEX Exploration and Production.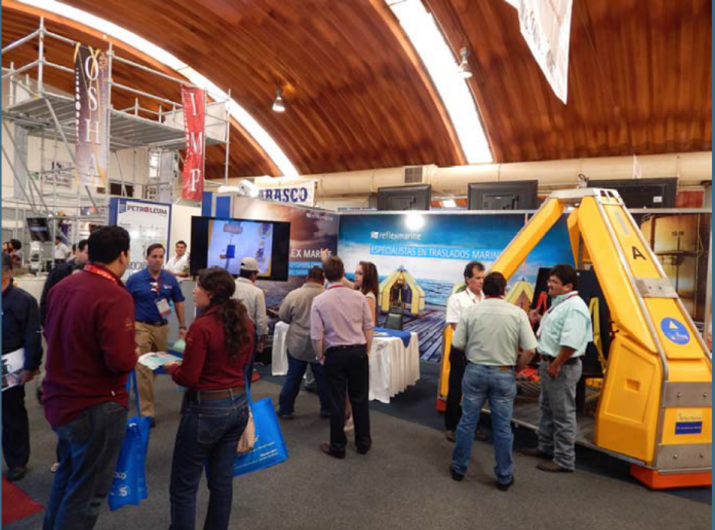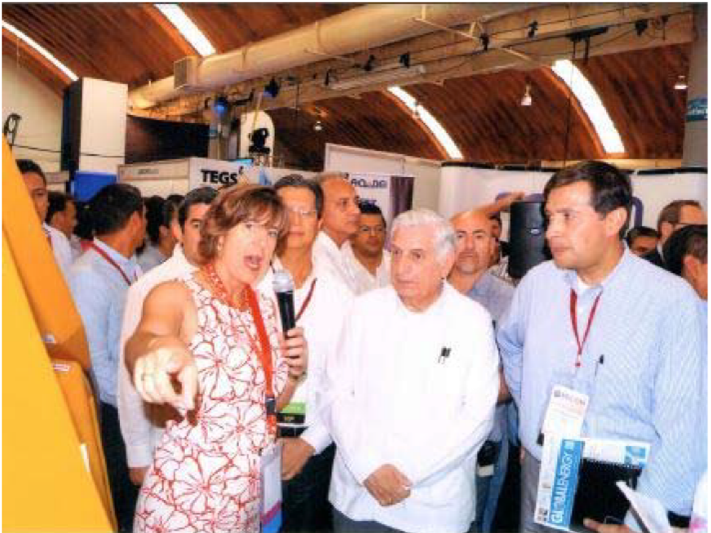 Reflex Marine stand (top image) and Business Development Manager for South America Rebecca Loto presenting FROG-6 to the Tabasco state governor, Arturo Nunez Jimenez and to Engineer Gustavo Hernandez, the General Director of PEMEX Exploration and Production (bottom image).
Further conferences and events we attended in the country included the Mexican Petroleum Congress (June 2017) and the Mexico Assembly conference (April 2019), among others. Speaking to clients and partners during these events, we learned that many companies in Mexico recognise the need for improved safety of offshore personnel transfers but change is a slow and demanding process.
We firmly believe that knowledge transfer and engaging in open discussions are the main factors that lead to disruptive ideas and industry development. From our decades of experience, we gathered incident data for the different types of offshore crew transfers (aviation and marine) and we are able to explain how the FROG-6 is designed to prevent the four major risks of transfers by crane: falling, collision, heavy landings and immersion. We believe that by sharing this type of knowledge and by having open discussions with decision-makers, we can support the industry to focus on the importance of providing safe crew transfer methods. We truly hope that our involvement in Mexico will stimulate the improvement of safety standards for offshore workers.
Helping to make sure every offshore worker can return home safely is Reflex Marine's core mission. We believe that safety and emergency preparedness in the world of marine transfers should remain the primary focus for all. Our products have changed the standards of offshore personnel transfer around the world and became a benchmark product in many countries. We will keep working to further develop and support innovative concepts and solutions for safe offshore marine access in Mexico and around the world. We hope that one day we will be able to ensure that personnel transfer around the world is safe and incident-free.
This year marks our 10th year working in Mexico.
We will continue to engage with the offshore industries in Mexico and we hope we will be able to stimulate the improvement of safety standards for offshore workers as we have done in many other countries including UK, Brazil, Norway, Saudi Arabia and Canada. We are grateful for the 10 years of experiences gained and look forward to a further 10 years in Mexico, improving the safety of offshore crew transfers every day.
Support for users in Mexico
As an international company, we understand the need to reach the people who use our products with accessible resources and support. That's why we translated the FROG-6 User Manual into Spanish (available to download here) and we have Spanish-speaking staff available to assist with sales and operational questions. Local support is available through our partner companies in Mexico.
FROG-6 in Mexico
The first FROG-6 basket for use in Mexican waters was bought 10 years ago by Olympic Shipping AS, an offshore shipping company located in Fosnavaag, Norway, for use on their accommodation vessel, the MPSV Olympic Triton. The FROG-6 was used to transfer Triton's crew to and from other crew boats and supply vessels working on the Cantarell oil field in the Gulf of Mexico.
We received excellent feedback from Olympic Shipping AS' Captain on how the FROG-6 improved their operations:
"As the master of the vessel, my concern will always be the safety of my crew. I am confident that every operation is performed safely and efficiently, knowing that we have a device that I can rely on 100 percent. The general feedback I have received from our employees, and other personnel that have been transferred using the FROG, has been very positive - especially the feeling of comfort and safety during the transfer."
(Download case study here.)
The FROG-6 is CE Marked, DNV/ABS Reviewed and has gone through impact testing reviewed by the Motor Industry Research Association (MIRA). It completed immersion testing in equivalent of Beaufort 7 sea-state and has a design safety factor in excess of 10, making it the safest personnel transfer basket available in Mexico.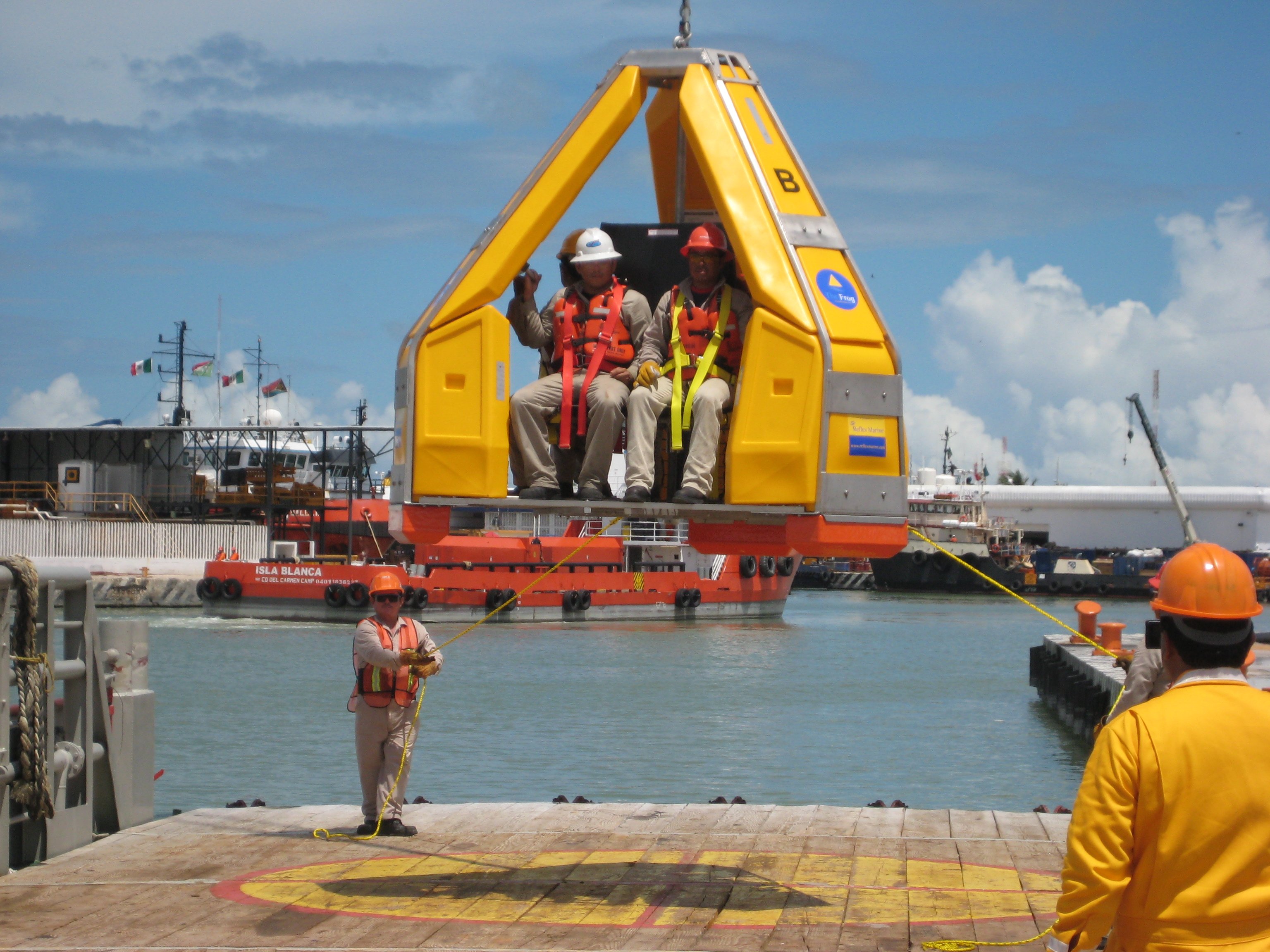 FROG-6 trialled by workers during demo event for PEMEX .
If you have any questions about the FROG-6 personnel transfer basket or if your existing FROG-6 unit requires servicing, please get in touch with our Team who would be happy to help at: info@reflexmarine.com